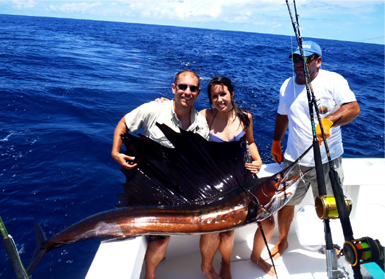 With more than 17 years of experience, we have made Costa Rica one of the top sport fishing destinations in the world. Our goal has been to furnish our clients with first-class accommodations and first-class fishing boats in order to provide them with the best fishing opportunities in Costa Rica, for both the experienced fisherman as well as beginners. Based on our reputation, we've been featured on several ESPN shows, including the 2002 Walker's Cay Chronicles with Flip Pallot.
We are an ecology-conscious operation and make every attempt to preserve and conserve the environment in Costa Rica; we practice 100% catch and release. For the Good Day Team, your fishing trip begins once you land in Costa Rica. Let us take care of everything while you have a GOOD DAY!
Are you a fly fishing expert or a beginner? The Costa Rica Charter boats and our professional crews can provide the ultimate fly fishing experience. We can provide the lessons, all the necessary tackle you'll need, or you can bring your own.
Unlike conventional tackle, fly fishing lets you get up close and personal with the fish. Teased right to the back of the boat, you'll be able to see your quarry, present the fly, hook the fish and watch the action begin. Quite honestly, there's no more exciting way to catch a Marlin, Sailfish or Dorado!
Become a Fly Fisher!
For all the boats in our fleet, our crew is prepared to provide our avid anglers with this growing technique. You'll find all the necessary equipment to before this blind casting technique. After many strikes on the surface and by using the proper sinking lines, pretty soon you will see dancing fish! This emotion can only be explained on the water, so don't wait to let us give you this experience of a lifetime.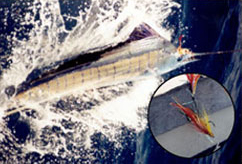 A customer's experience is posted on West Fly. Read it here!
Following is a list of recommendations in the event you want to have your own fly gear.
Flyfishing tackle for big game fishing
Rod: 13 to 18 weight, 8 1/2 feet with or without a foregrip
Reel: Saltwater to match the rod, Billy Pate, Able or equal, direct drive or anti reverse can be used.
Reel Capacity: 400 to 500 yards backing of Dacron or Mono or angler fly line according to the size of the reel
Shooting head, scientific angler, weight forward floating or equal, 30 to 60 feet
Tippet: Mason or Ande; it is recommended that all tippet lines be tested to meet IGFA regulation
Flies: Pink or multicolored with pink works the best for color; feathers 6 to 7 inches long with pop. per head; hooks of short shank 4/0 or 5/0; tube flies work well.