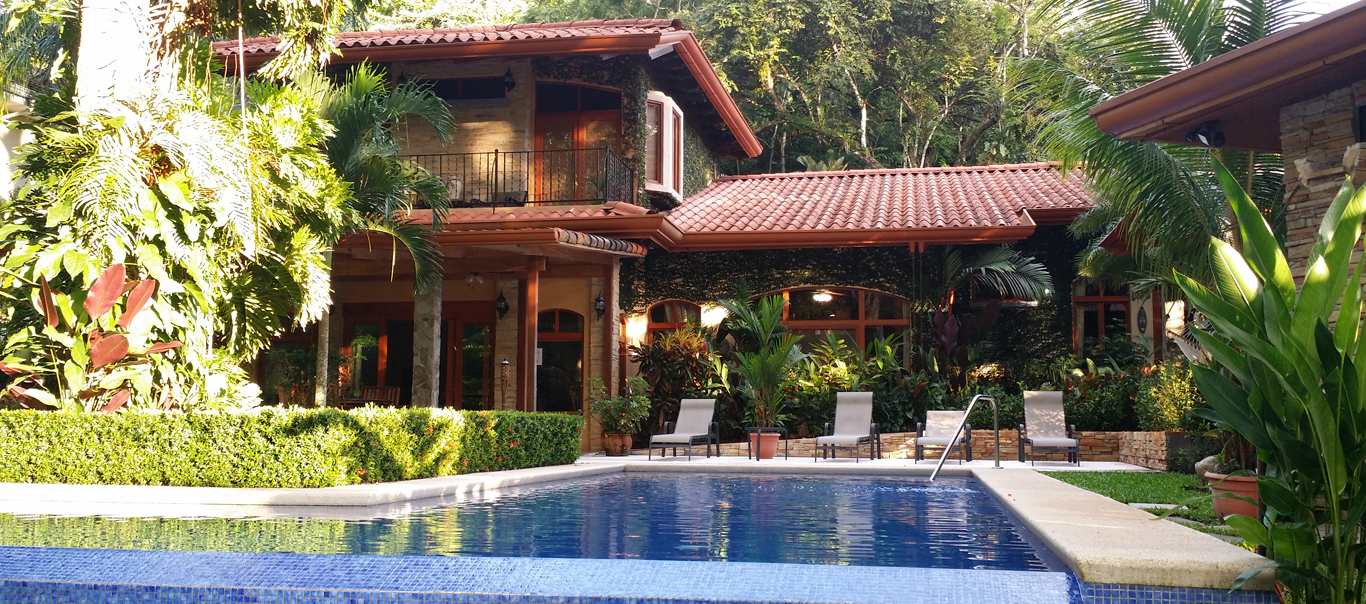 Enjoy a luxurious Costa Rican stay at the beautiful Casa Buen Dia after a long day of fishing. Our friends' comfort has never been more important to us; we want you to have Good Day and a Good Night!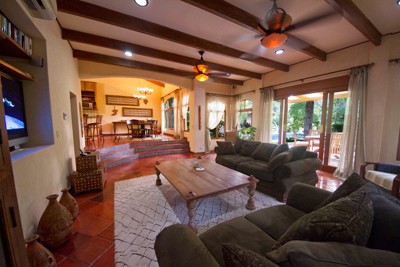 The attractive Casa Buen Dia is a 4 bedroom, 4 1/2 bath home. Its fully equipped kitchen has all modern appliances with gorgeous teakwood cabinets. The large, inviting living room provides guests with a big screen TV supplied with cable and a sound system. For your comfort, air conditioning is available in every room, and for your convenience direct phone and free internet access is provided. The family-friendly home has fully manicured landscape with a spectacular golf course view and an in-ground pool to take a dip in after a day on the sea.
In addition, a stay at Casa Buen Dia is made even more comfortable with free golf cart access to the Beach Club Pool, Marina, Los Suenos shopping area and the Marriott Los Suenos Resort. (All of these locations are also within walking distance!) Casa Buen Dia sports 24/7 security, daily maid service, and a chef available upon request.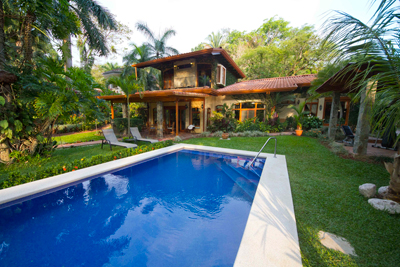 The Casa Buen Dia is available for daily, weekly, and long-term rental. For reservations, please contact us at the following or fill out the form below to reserve a stay online.
Email:
This email address is being protected from spambots. You need JavaScript enabled to view it.
Phone: (506) 8383-6623 or (506) 2272-0350
Fax: (506) 2272-8740
We invite you to check out reviews for Casa Buen Dia! Just click any of the links below to read how other guests fell in love with this beautiful Costa Rican getaway home.


Ready for a more inclusive look at Casa Buen Dia? Check out all of its loveliness in the video below. RESERVE NOW!
Casa Buen Dia, the Good Day Team or any other companies involved in this rental are not responsible for loss of valuables or any personal property or any personal injuries of the guest during the stay in Casa Buen Dia or at the resort or during the use of the golf carts.
Notice: By submitting this form, You, the guest of Casa Buen Dia, acknowledge that you will be held responsible for any damaged, broken or missing items in the house or any damages to golf carts during your stay. You further acknowledge that there will be a penalty of $150.00 for smoking inside the house during your stay. (No reservation is secure without a deposit.)