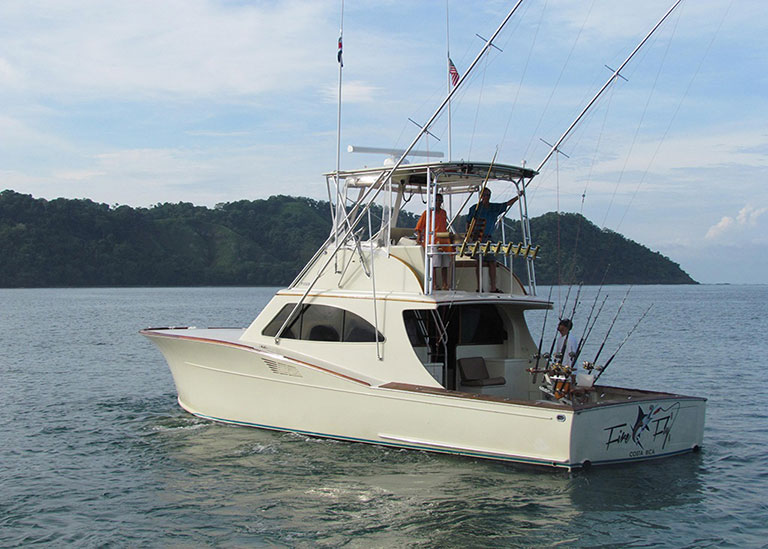 43' FIRE FLY / maverick boat / LOS SUEÑOS
Cummins twin Diesel / AC cabin
28 KT Cruising Speed
6 Anglers
Overnight trips Available
Full day $2350.00
Our boat offers the sport fishing service from the Marina Los Sueños Herradura.
5 minutes away is the beautiful city of Jaco, it is a small tourist town on the Central Pacific coast of Costa Rica, it is 72 kilometers southeast of Puntarenas and 97 kilometers southwest of San José, capital of the Republic.Jaco is of recent foundation (mid-twentieth century), although the area was inhabited since the pre-Columbian era by natives of the Huetar ethnic group, settled in dispersed villages; At the beginning of the Conquest the chief chieftain was Garabito, who gave rise to the name of the canton. The discoverer of the region was Don Gil González Dávila, in the year 1522, when he made the first tour of the national territory, from the southeast sector of the same to the indigenous town of Avancari (today Abangaritos, canton of Puntarenas).
This marina allows Costa Rica to place itself in a special way in the world of tourism in our hemisphere. Between Mexico and Peru there is no quality marina that could receive sailors and the Los Sueños marina comes to fill this lack with standards of the highest quality " The marina can receive approximately 300 yachts and have about 60,000 square feet of construction, which will include a yacht club, restaurant, bar, spa and a wide variety of businesses, to meet the needs of Those who disembark at the place, also our sport fishing boats meet the highest quality standards and for the comfort of our customers we offer for rent, our luxurious residence (Casa Buen Día) located in this complex.