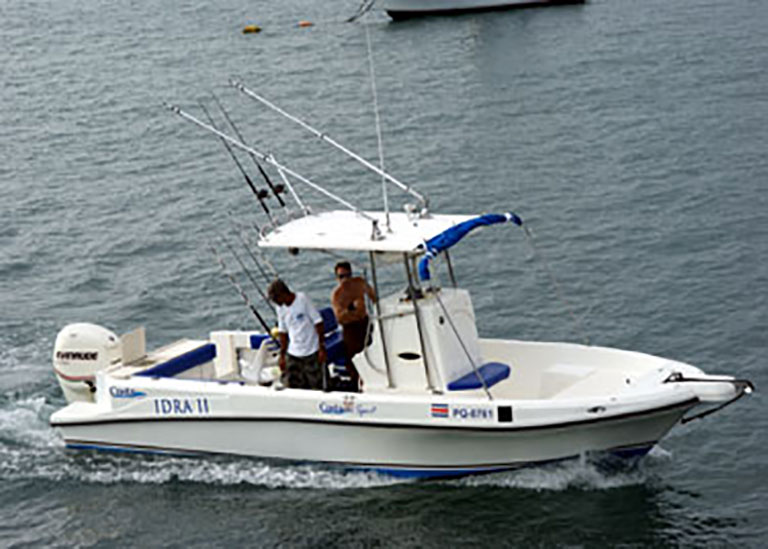 27' IDRA / QUEPOS
Inshore fishing boats
Marine toilet
Maximum capacity: 3 passengers
Full day $975.00
Half day $775.00
The city is named after the Quepoa ethnic group, who inhabited the place until the colonial era. In 1563, the Spanish Catholic conquerors - led by Mayor Juan Vázquez de Coronado (1523-1565) - settled there, refounded it with the name of San Bernardino de Quepo and organized a commission in which they dedicated themselves to the exploitation of the aborigines for their own benefit. By the beginning of the 17th century (in less than forty years) there were only 250 people of the Quepoa ethnic group. This Correction of Quepo depended on the Kingdom of Guatemala from 1563 to 1659, in which it passed to the jurisdiction of the governor of Costa Rica based in Cartago, 190 km from the village. In the census of that year it was recorded that only 18 Quepoas slaves remained.
Quepos is the head of the canton of Quepos, in the province of Puntarenas (Costa Rica). The city has one of the most important ports on the Pacific coast of the country.
The Quepos district has an area of ​​222.89 km² and an estimated population of 19,889 inhabitants (2011), with a population density of 89.23 inhabitants / km², one of the largest in the Costa Rican Central Pacific. Costa Rica Charter Boats in Quepos are based at the MARINA PEZ VELA and ideal place to board our fishing boats an enjoy an adventure full of emotions and fun.