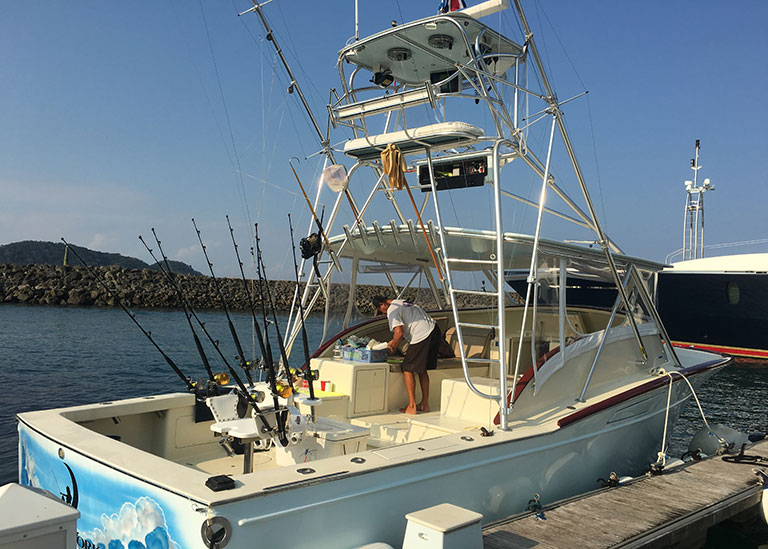 36' DREAM WORK/ LOS SUEÑOS
CUSTON MATE SINGLE engines
Full bathroom
Maximun 6 people
Full day $1650.00
Half day $1450.00
This marina allows Costa Rica to place itself in a special way in the world of tourism in our hemisphere. Playa Herradura (Herradura Beach) is a coastal town on the Central Pacific Region of Costa Rica. It is located about 4 kilometres (2.5 mi) north of Jacó in the province of Puntarenas. The name Herradura (horseshoe) refers to the bay's horseshoe shape. The town has developed into an important tourist destination in Costa Rica. This has been, in part, thanks to Los Suenos Resort and Marina. The resort and related amenities, including a full service, five star Marina, have positioned the town as the Fishing Capital of Costa Rica. The Marina is home to the largest fleet of Sports fishing boats in the country. Our boat offers the sport fishing service from the Marina Los Sueños.
5 minutes away is the beautiful city of Jaco, it is a small tourist town on the Central Pacific coast of Costa Rica, it is 72 kilometers southeast of Puntarenas and 97 kilometers southwest of San José, capital of the Republic. In 1927 the school was inaugurated with the name of Mixta de Jaco in the second administration of Mr. Ricardo Jiménez Oreamuno. The church was built in 1946.
In the second administration of Mr. José Figueres Ferrer, on May 26, 1972, in executive decree No. 2347-G, on Administrative Territorial Division, the title of Villa was granted to the neighborhood of Jaco. In the government of Mr. Daniel Oduber Quirós, Executive Decree No. 4358-G of December 6, 1974, which established the District Council of Jaco, was issued.