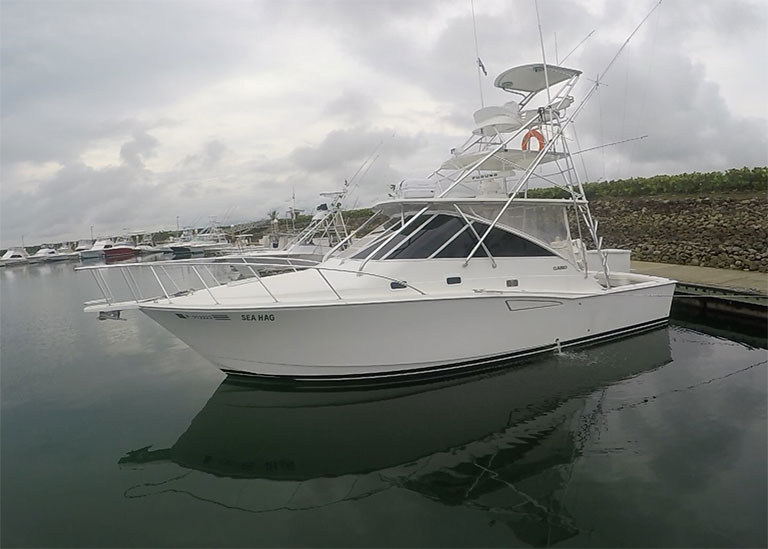 35' SEA HAG \ QUEPOS
AC / TWIN ENGINES / AC CABIN
MAXIMUM CAPACITY: 6 PASSENGERS
FULL DAY $1850.00
HALF DAY $1550.00
The city is named after the Quepoa ethnic group, who inhabited the place until the colonial era. In 1563, the Spanish Catholic conquerors - led by Mayor Juan Vázquez de Coronado (1523-1565) - settled there, refounded it with the name of San Bernardino de Quepo and organized a commission in which they dedicated themselves to the exploitation of the aborigines for their own benefit. By the beginning of the 17th century (in less than forty years) there were only 250 people of the Quepoa ethnic group. This Correction of Quepo depended on the Kingdom of Guatemala from 1563 to 1659, in which it passed to the jurisdiction of the governor of Costa Rica based in Cartago, 190 km from the village. In the census of that year it was recorded that only 18 Quepoas slaves remained.
This park has one of the most impressive landscapes of Costa Rica and the world, has several coves with multiple white sand beaches and lush foliage in the middle of large mountains and forests that reach the beaches, is located in the forest life zone humid tropical.
It has a great terrestrial and marine biodiversity with wonderful coral reefs.
Because of its excellent climate and scenic beauty, it is visited by a large number of national and international tourism, for which it is currently developing an adequate infrastructure, with an emphasis on harmony with nature, of quality but mimicked with it to reduce the visual impact and under strict environmental protection standards, works designed by renowned bioclimatic architects Ibo Bonilla and Rafael Víquez, among which are the Visitor Center, the Park Ranger House, Viewpoints and supporting infrastructure and the Path Master Plan that includes trails : Punta Catedral, Waterfall, Mirador, Espadilla Beach, Manuel Antonio Beach, Congos, Twin Beaches, Puerto Escondido, Mangrove and Lazy Trail, with universal accessibility facilities, rest areas, panoramic viewpoints and scientific interpretation.
In the vicinity of the Park, all kinds of commerce abound with facilities at all levels for tourism including typical regional and international food, as well as lodging for all tastes and economic conditions. Costa Rica Charter Boats in Quepos are based at the MARINA PEZ VELA and ideal place to board our fishing boats an enjoy an adventure full of emotions and fun.